For your rental needs call : (403) 261-2039
Or
Rough Terrain Boom lifts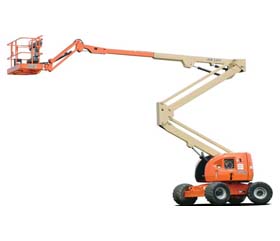 Also called a telescopic boom lift this machine is ideal for outdoor use. These engine powered articulating boom lifts are ideal for work that requires maximum horizontal and vertical outreach. Our boom lifts have easy to use controls and they reach out further with more capacity.
We offer both straight boom lifts which provide the greatest reach and articulating boom lifts which feature a versatile jib that takes you up and over obstacles for better positioning.
Here at Simon Lift Systems Inc we offer the following rough terrain boom lifts:
Please contact us for additional equipment specifications.
We offer contractor rates on a job by job basis so give one of our experienced sales team members a call at 403-261-2039. We will work together with you to develop the best rental plan for your need.