For your rental needs call : (403) 261-2039
Or
Electric Boom Lifts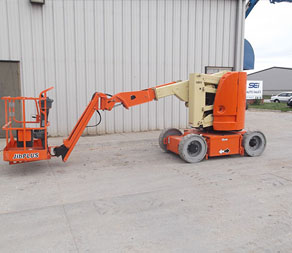 Ideal for indoor use electric boom lifts feature longer run time, greater uptime and higher productivity. The articulating boom lifts have less dependency on hydraulic oils and zero emissions.
Electric boom lifts are ideal for confined work spaces and offer a safe and effective reach solution. Some of the features of the articulating boom lift include self levelling platform, compact storage length, easy manoeuvrability, automatic hill and ramp braking and it will fit through standard double doors.
Here at Simon Lift Systems Inc we offer the following electric boom lifts:
Please contact us for additional equipment specifications.
We offer contractor rates on a job by job basis so give one of our experienced sales team members a call at 403-261-2039. We will work together with you to develop the best rental plan for your need.