For your rental needs call : (403) 261-2039
Or
Electric Scissor Lifts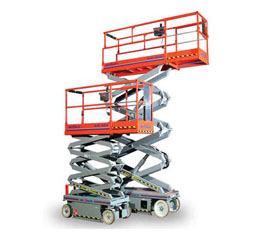 Ideal for indoor use electric scissor lifts are easy to drive, operate, store and have the safety of zero emissions and are offered with non-marking tires. Great for electrical, plumbing light installation and more.
These self propelled units are able to drive themselves around a site (they usually require to be transported to a site, for reasons of safety and economy). In some instances, these units will be able to move whilst the job is in progress, although this is not possible on units which require secure outriggers, and therefore most common on the scissor lift types. The power can be electric, gasoline/diesel (rough terrain scissors) powered, or in some cases, a hybrid.
Here at Simon Lift Systems Inc we offer the following electric scissor lifts:
Please contact us for additional equipment specifications.
We also carry runabouts and man lifts. Please see Runabouts page for more information.
We offer contractor rates on a job by job basis so give one of our experienced sales team members a call at 403-261-2039. We will work together with you to develop the best rental plan for your need.