For your rental needs call : (403) 261-2039
Or
Rough Terrain Scissor Lifts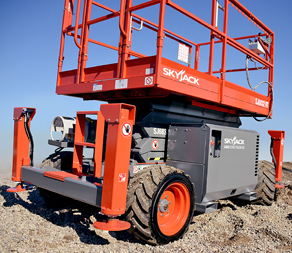 Designed for outdoor use rough terrain scissor lifts allow the operator to lift heavier loads while providing excellent manoeuvrability and ease of use. Controls are located on the platform for extended operation. Extended platforms and outriggers are just a few of the features of this unit.
Rough Terrain Scissor lifts are tough, construction-oriented four-wheel drive (2x4 or 4x4) machines with positive traction control — ideal for increasing productivity in demanding outdoor worksites. We can offer diesel powered units or dual fuel (propane/diesel) units.
Here at Simon Lift Systems Inc we offer the following rough terrain scissor lifts:
Please contact us for additional equipment specifications.
We offer contractor rates on a job by job basis so give one of our experienced sales team members a call at 403-261-2039. We will work together with you to develop the best rental plan for your need.